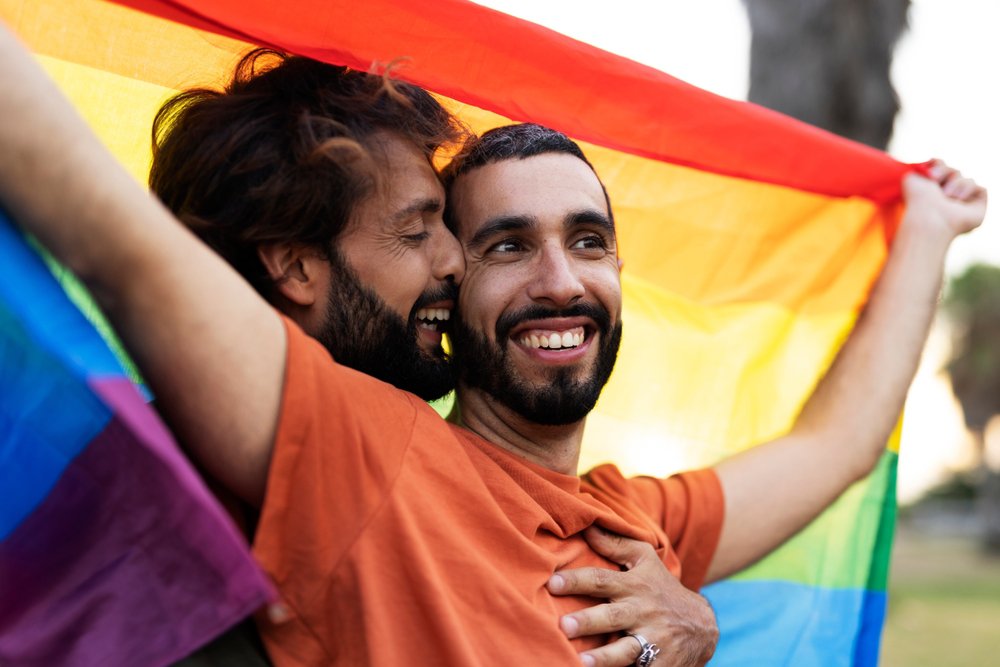 Pre-exposure prophylaxis (PrEP) is one of the most important tools for HIV prevention, especially for LGBTQ+ individuals. From gay and bisexual men to trans women who love other trans women, every letter in our community has been disproportionately affected by HIV/AIDS, and PrEP has made a massive difference in reducing transmission rates.
But still, many people who could benefit from PrEP are affected by barriers that prevent them from receiving the protection they need. Maybe you don't know how to get PrEP, you're afraid it will be too expensive, or you need discretion in the delivery of your meds. Pride Month is an excellent time to get answers to those questions and learn more about how PrEP can help you stay HIV-free.
At PrEP2Me, we prescribe PrEP online so that anyone can get the HIV prevention they need. We deliver your medication within 3-5 business days in discreet packaging, and we provide care regardless of your insurance situation.
Here's more information on why this Pride Month should be the month you start PrEP:
Why Is PrEP So Important for You?
Pre-exposure prophylaxis can reduce your risk of HIV infection by up to 99% when taken as prescribed. It's an incredibly important tool for anyone who is at risk of getting HIV, and it can be life-saving for those in the LGBTQ+ community (particularly gay and bisexual men) who are more likely to contract HIV than other populations.
PrEP works to prevent HIV via sexual transmission, as well as through injection drug use. By blocking HIV from entering a person's body, PrEP can reduce the risk of infection for those who are at risk of being exposed to the virus.
When you're on a daily dose of PrEP, you can have sex and enjoy your life without worry, especially during Pride Month.
Why Start PrEP This Pride Month?
There's An STI Test Baked In

Before beginning PrEP, it's necessary to make sure you're not positive for HIV or other sexually transmitted infections. The PrEP2Me process includes an STI test, so you can get tested while you're in the process of starting your PrEP prescription. It's one less thing to worry about and helps ensure that you stay safe while enjoying Pride Month activities.

PrEP Can Be 100% Free

When it comes to PrEP, cost is a major obstacle for many people who'd like to be protected. But when you get your PrEP prescription from PrEP2Me, you don't have to worry about how you're going to pay for PrEP. We make PrEP affordable by providing care regardless of your health insurance situation. No matter what our patients' health insurance plans cover -- or whether or not they have insurance at all -- we can provide them with PrEP.

Hormone Therapy and PrEP Go Together

For people who are on hormone therapy, the decision to take PrEP can be hindered by concerns about its interactions with HRT. But the good news is that PrEP and HRT can be taken together safely. Gender can also be a strange thing to navigate in relation to PrEP, but the rule of thumb is this: if you're routinely having sex with partners who are at risk for HIV, you should be on PrEP, regardless of your gender, your body, or the type of sex you're having!

Taking PrEP is Easier Than Ever

PrEP2Me makes it easier than ever to get started on PrEP medications. As your online PrEP provider, we offer online prescriptions with free delivery of your medication so you can get your daily pill quickly and discreetly. No need to worry about making it to clinic visits or having enough medicine. Our team is available throughout the entire process, helping patients through every step of the way to ensure that they're getting the care and protection they need.

You Deserve to Be Protected

It's hard to define what Pride is 'about,' but most can agree that one of the most important tenets of Pride Month is affirming your worth as an LGBTQ+ individual. Preventing HIV isn't about isolating yourself or being afraid -- it's about the freedom to be intimate without fear or worry. You deserve to be protected from HIV because you deserve a happy, healthy sex life.
Get PrEP Online With PrEP2Me
This Pride Month, you owe it to yourself and your community to stay safe and healthy, because you deserve it! It's easy to access PrEP online: just get started with PrEP2Me.
PrEP2Me offers a simple three-step process to get started with PrEP from the comfort of your own home: complete an at-home STI test, consult with a doctor via video chat, and get a prescription sent directly to your door.
We make it easy to get started with your PrEP prescription. Just fill out our simple online form. At PrEP2Me, we make the prevention of HIV and AIDS simple and accessible to all!