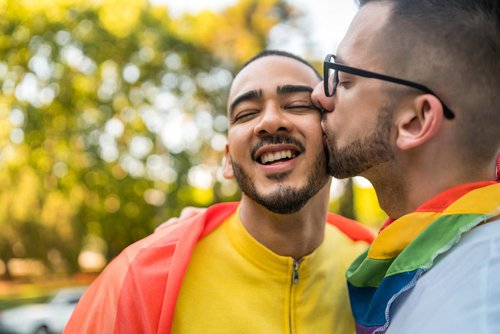 This time last year, many of the LGBTQ+ community was mourning the closure of their local Pride events due to safety concerns surrounding the COVID-19 pandemic. We thought to ourselves, "absence makes the heart grow fonder," and tided ourselves over with thoughts of how much fun and joy would be present at Pride 2021. Unfortunately, the pandemic isn't quite over yet, and most cities still find their major Pride events canceled or diminished this June.
Celebration and community are important to a healthy LGBTQ experience, and the team at PrEP2Me wants our patients to remember that you don't need a parade to celebrate being who you are. Here are some quirky tips to help you show your Pride in fun and safe ways this year:
Engage With Your Community
Perhaps the most important part of Pride is also one of the most simple -- seeing and being around other people who share your experience as an LGBTQ individual. While crowds of the usual magnitude are impossible (not to mention unsafe) to gather in the confines of your kitchen, you don't need to attend a major event to hang out with other gay people and have a Pride gathering of your own. Get some rainbow decor, costumes, healthy cooking, and culturally-relevant media involved, and you can have a COVID-safe dance party with all the same benefits of spending time among your community. 
Get Tested, But Make It Fun
Have you ever heard of an STI testing party? Neither have we, but in the spirit of Pride, we think it's a fabulous idea. While STI testing is mostly advertised as discreet, there's another approach to destigmatizing the test you might like to try: doubling down loud and proud, in true Pride fashion. If it's been a while since you and your friend group have been tested, now is the time. There are plenty of ways to make a go of it, whether by scheduling an in-person group trip to the clinic or gathering to take your tests by mail. An additional benefit of the STI-testing-themed Pride party is that you've established a built-in system for checking in on each other, asking about results, supporting those who test positive, and staying accountable for future tests.
Enjoy Time With a Partner
There's no better way to celebrate your sexuality and gender identity than by expressing it with a partner. Gay and trans sex with someone (or someones) who understands you is a joyful, affirming experience, and you may even find that it puts you more in touch with the true reason for the season than a rainbow float sponsored by Bud Lite. Just remember to keep it safe -- use protection when you can, and if you're not already on a daily regimen of PrEP, get started now, as taking PrEP every day can reduce your risk of HIV infection by 99%.
If you're in Western Pennsylvania and you're looking for a venue for your STI party -- or just a place to receive LGBTQ-focused, culturally-competent healthcare -- check out our open hours at Central Outreach Wellness Center. 
If you're not yet on PrEP, get started with PrEP2Me, where we make staying safe easy and accessible for everyone!